Monster Ulua!
Kauai ulua run big. That's a conclusion that could be safely assumed by LeeRoy Remigio who landed his first ulua and became a member of Hawaii's 100-Plus club, those fortunate few to have landed giant trevally weighing in at a minimum 100-pounds!
After a fairly depressing week of following the congressional bantering on the nation's debt ceiling, I opened my e-mail to find this awe-inspiring message from LeeRoy:

"My First Ulua - Caught by LeeRoy Remigio
104 pounds: Using a 13' Heavy Roddy Hunter Pole, 4/0 Okuma Convector reel, Ande 40 lb test line and an exhausting 1 hour 10 min fight from shore.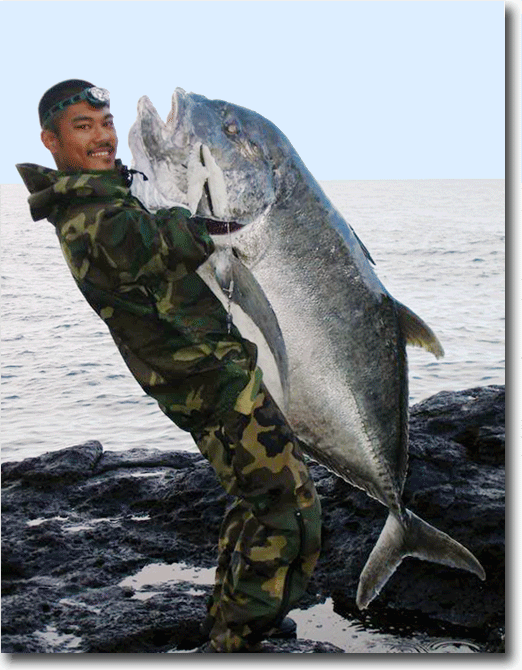 Very exciting day for me! Before I caught this monster I attempted to fish ulua for four years and couldn't even get a shark to bite my line. But now I have the prize that all hawaii fishermen want on there belt.




Just wanted to share and hopefully encourage a lot of young fishermen out there to never give up even if you can't catch that fish you really want. It will come as long as you have bait in the water.




Thanks!"

Thank YOU, LeeRoy for the sharing this awesome catch and congratulations on a major accomplishment!
Here's the video of LeeRoy's unbelievable day!



Return to top of page Kauai Ulua



If you've got something you'd like to share, please contact meand we might be able to post it!
In the meantime, you might want to visit our other fishing pages...
Sign up for our free newsletter
Return to more Hawaii Beaches and HawaiiBeachcombers Homepage