Hawaii Bonefishing
Hawaii bonefishing. It hardly seems that this could be a subject in itself. But for many particular anglers in other flats fishing destinations, sight casting for bonefish is the only form of fishing in town... and its just as crazy, here in Hawaii!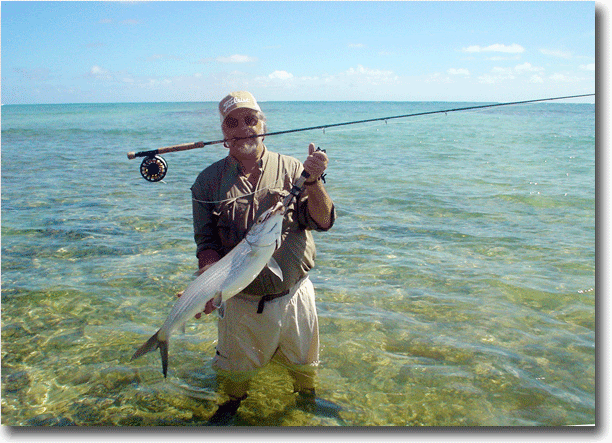 With double digit bones being brought up frequently, Hawaii is a bonefishing dream come true! (Photo by Ollie Owens, Flyfishing Guide - Hawaii Ocean Outfitters)
Here in Hawaii it's common knowledge that bonefish, or o'io as they are more commonly known, are pursued as much for their food value as for the fight that anglers in other areas so treasure. While many in other parts would pass on the bonefish as table fare due to its bony disposition, Hawaii folks love it as a source for fishcake – the fish meat scraped and kneaded into a paste then shaped into patties or balls served in myriad ways.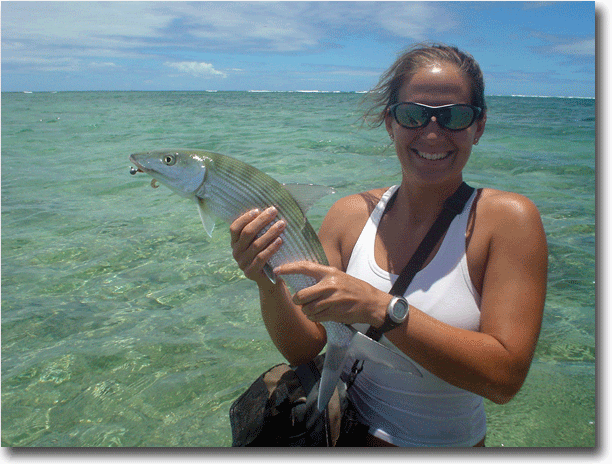 The bonefishing action is so hot in Hawaii that the gals aren't willing to stand on the sidelines at all! (Photo by Ollie Owens, Flyfishing Guide - Hawaii Ocean Outfitters)
Although the popularity of bonefish in Hawaii as food fare keeps the fishery from reaching the levels of destinations like the Florida Keys or other similarly big bonefishing destinations, make no mistake that Hawaii bonefishing is big, and its going to get even bigger!
What makes the o'io such a trophy, whether in Hawaii or elsewhere, is its unmistakable fighting style – the savage strike followed by reel peeling runs which after proving unsuccessful turn to a run in the direction of the angler's pull before turning and again running seaward. This last-ditch action that makes even the experienced angler think the bonefish has thrown the hook cause for a level of finesse and experience that makes the bonefish often the exclusive target of many anglers.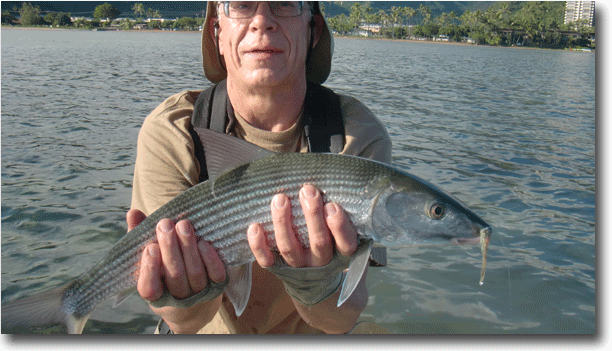 All of who've fought a bonefish on light tackle know what a treasured experience it is and Hawaii bonefishing has a lot to offer up in that area! (Photo by Ollie Owens, Flyfishing Guide - Hawaii Ocean Outfitters)
The bonefish's exciting aerials, long runs, and an unrelenting defiance are virtues of the bonefish that diehards just can't get enough of. And the grounds in which you'd typically find these worthy opponents greatly adds to their chance to win the battle. For the most part the shallows frequented by the bonefish are sandy bottoms punctuated with a lot of coral and ocean flora due to the heavy dose of sunlight at the minimal depths.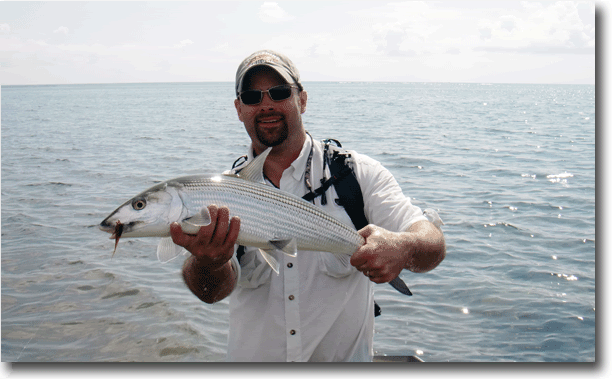 From crystal clear water to murky, and anything in between, Hawaii's waters have trophy bonefish lurking year round! (Photo by Ollie Owens, Flyfishing Guide - Hawaii Ocean Outfitters)
Spotting the "bones" in the more varied bottoms that Hawaii offers up to flats anglers is the first level toward the cherished silver trophy. And given the right presentation for the time and tide, a hookup is quite likely. However, hanapa'a (hook-up!) is just the start of a fight that your opponent has a good chance of winning due to its sudden runs on light lines or a fly which include the chance of getting your line snagged or even cut.
The varying bottom conditions of the islands will yield the bonefish - if you know how to work them! (Photo by Ollie Owens, Flyfishing Guide - Hawaii Ocean Outfitters)
The bonefish like other Hawaii fish are caught by surf casting, sight casting (boat or wading), trolling, or even with a thrownet. But for the purist, sight casting afoot is the only way to go as the fish is given the fairest chance to win the battle without the additional leverage afforded by a boat. But whatever way you choose, know that Hawaii's bonefish are in the house and they run big, averaging close to ten pounds on the high side!

If flyfishing isn't your chosen venue, Hawaii's fighting bonefish won't hold that against you! (Photo by Ollie Owens, Flyfishing Guide - Hawaii Ocean Outfitters)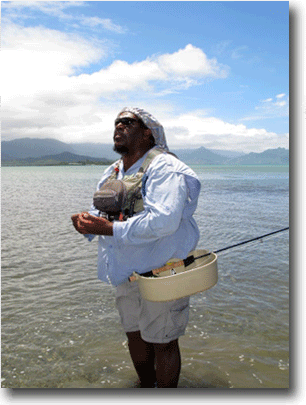 Experience Hawaii Bonefishing For Yourself!
Hawaii bonefishing and flyfishing guide, Ollie Owens, is a vetted guide through the experiences he's provided to both traveling professional anglers and local fishermen.
Ollie's ability to take his clients and not only guide but to teach them to fish is nothing short of amazing, as is his love for the islands and its people.
A world-class fishing guide is not among the top guesses you'd have for this California transplant but a five-minute conversation with him on any topic of local fishing will convince you that you'll want to spend a day or two with him to realize the bonefishing paradise that Hawaii is.
Return to top of page Hawaii Bonefishing
Or visit our other Hawaii fishing pages: